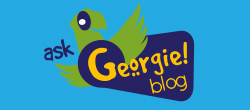 Join our community of animal lovers to share stories, tips
and experiences.
Adopters receive great promotional benefits including big savings and freebies from our partners: PETCO and PetSmart.
HVHS Dog Lands Lead Role
Posted Friday, June 22, 2012
HVHS Dog Lands Lead Role
"Colt" the Shetland Sheepdog that became a ward of the HVHS has landed the lead canine role in John Steinbeck's "Of Mice and Men" which will be performed at The Antrim Playhouse in Wesley Hills, NY. Steinbeck's novella tells the story of displaced migrant workers during the depression and is a heartwarming illustration of loyalty, friendship and hope. "Colt" plays the faithful but aged dog to Candy the elder handyman on a California ranch. Performance dates include: June 8, 9, 15, 16, 22, 23, 29, 30 at 8pm; June 10, 17 and 24, at 2pm. Tickets may be purchased at www.antrimplayhouse.com or by calling 845-354-9503.
Gordon Wolotira plays "Candy" shown here with "Coltie" his
co-star who steals the show! Photo credit: Roxxy Blues, Inc.
"Colt auditioned for the role and nailed it," commented Ann Marie Gaudio, HVHS Acting President. When asked if stardom has changed Colt she said, "I have noticed he pauses at mirrors more now and I did catch him researching an Actors Equity Card online, but other than that he's just a regular dog." "Seriously though, Colt survived a car accident and sustained injuries that included a broken back, a body cast and ongoing physical therapy … Colt teaches us that anything is possible."