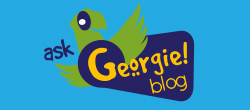 Join our community of animal lovers to share stories, tips
and experiences.
Adopters receive great promotional benefits including big savings and freebies from our partners: PETCO and PetSmart.
Mom and Puppies Rescued From West Virginia Shelter Available for Adoption!
Posted Tuesday, August 9, 2011
The Hudson Valley Humane Society participated in a rescue effort headed by Mid-Atlantic Basset Hound Rescue to save a Beagle and her 3 "bagel" puppies from euthanasia in a West Virginia shelter. Municipal shelters in southern states often reach out to partner organizations throughout the nation in an effort to save thousands of adoptable animals each year. Three puppies and their Mom arrived at the HVHS via air and ground transport courtesy of volunteer pilots and drivers. The canines will receive a full check up at the veterinarian and will become available for adoption. "Bagels" as they are commonly known are puppies born to a Beagle and Basset Hound pairing. It is anticipated their body weight will not exceed 40 pounds; all have darling personalities.

"These puppies will have a wonderful life thanks to the volunteer transport, Mid-Atlantic and the HVHS," commented Ann Marie Gaudio, HVHS Trustee. She continued, "It is extremely rewarding the moment they arrive into safety." Those interested should visit www.hvhumane.org and request an adoption application or call 845-354-3124; all adoptions are by appointment only. A complete medical history will accompany each dog.
About Beagles
Beagles are very friendly dogs of English origin and were bred to track small game in packs followed by people on foot; the event was known as "Beagling". Classified as "scent hounds", they are guided by their nose and best suited for households with fenced-in yards. Typically they are tri-colored and stand 10", 12" or 14" at the shoulder and are extraordinary companion animals. They are excellent watch dogs and are perfectly comfortable in any size home. Beagles are smart and easily trained; they enjoy daily walks with their human counterparts for bonding and enrichment.
About Basset Hounds
Basset Hounds are a Beagle's French cousin. Bassets are also classified as "scent hounds" and guided by their incredible sense of smell which is second only to the Bloodhound. Typically they are tri-colored but can also be red and white or lemon and white. They stand 12" at the shoulders and are the shortest legged dog in the hound group. Bassets are beloved by their human counterparts as they are the clowns of hounds! Their highly expressive eyes and long droopy ears make them irresistible. Bassets are smart, loving companion animals comfortable in any environment. If the TV remote is missing chances are the Basset has it.